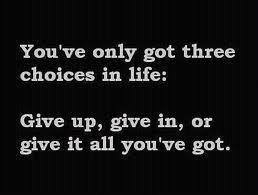 Sometimes everything goes wrong, people leave us, appliances break down, cars break down, accidents happen, people don't do what you want them to do….. and on it goes.
One way would be to run away, (or we could) but that would not work. So what can be done? A change of attitude can make a huge difference and it will empower your life.
For example you cannot change the fact that something broke, but you can let go of being upset about it and focus on the solution: What can you do to fix it, yes it might cost money, it might cost time, but nothing changes the fact that it is broken, it is what it is. The sooner you stop focusing on the problem the faster you will feel better. It's a change in attitude that will make the difference.
Do you know people who keep obsessing about "the problem" for a long time? They talk about it to everybody they know and the energy gets bigger and bigger and the problem too. It totally depletes the energy reserves.
One way to stop it is to become aware of the fact and just stop and breathe in and out, it will shift the energy instantly. Sure it takes some practice to get there, but especially with a regular meditation practice it will become a habit very soon, if that is what you want.
Some tips that will help you
Focus on what is working

Nurture yourself

Be grateful for what you have

Don't give up
These are simple things to do and they will help you to feel better. Create some simple cards with positive words to remind you of good things and remember this too shall pass. It always does, you just have to go with the flow and do the best you can. One other thing that works great is to set reminders on your phone with positive messages a few times a day, they will make you smile. It's also a great time to make a vision board, which will help you focus on what you want and empower your life.
Try some of these tips and let me know how they work:-)