I love to share my extreme life experiences and inspire life changes in others….just for fun:-)
First, a little bit about my background…………
In 1979 I moved to California from Germany, when I was 24. When I was 58 I decided to move back to Germany to be closer to my aging parents and in between……….I cared for my family, raised 2 children and managed our household. Over a period of 34 years I owned and managed a clothing store, a successful workroom for Interior Design and worked in Real Estate, staging and selling homes in the bay area.
Midlife hit… at the end of my 40s my life fell apart and I went through some very dark years. I could not live with my husbands addictions anymore and had to leave my marriage. We had to sell the home I loved, my business fell apart, my kids resented me and on it goes………
To say the least I was lost, anything that inspired and gave me hope… helped me through the day. I learned new ideas at personal development seminars, like Landmark Education and Peak Potentials.
I participated in all kinds of support groups, like Alanon and Nami. I took classes at meditation centers, like spirit rock and started to meditate.
All this helped me transform my way of thinking and changed my way of being in the world from "victim to co-creator". My life miraculously changed and I have learned that "If I can do it, anybody can".
Anything can be learned
Technology always scared me, especially computers. When I got divorced in 2006 at the age of 51, one of the first things I decided to do was to improve my computer skills so I could be competitive in the business world.
I did whatever it took and I started taking computer classes even though it scared the hell out of me. At first, the process was slow, but little by little, I started to grasp the concepts and finally I developed my first online business.
What is my passion?
I neglected "me" for a long time, focusing on my family, career and always thinking I had to be practical. Finally in my early 50′s, it became clear that creativity, self-expression and being an inspiration to other lost people, are essential for my well-being………..I had to change.
As I began to explore my creative side, my life transformed.
I am now experiencing greater:
Acceptance

Aliveness

Peace

Fulfillment

Happiness

Success

Compassion
I want all this for you and I know it's possible. I've done it and so can you!
My first coaching experience was in 2005 and it fascinated me, I had a wonderful experience as an expression and leadership coach with landmark education in San Francisco.
I continued my education in human potential with several companies and started coaches training with CoachVille LLC in NYC, where I still take classes, because I love to learn, it inspires me. Coaching is life changing!
Last year I started to learn about Human Design, which is a fascinating tool to learn more about myself and how I function. Now at 62 I have more fun than ever before. I love to dance 5 rhythms, paint crazy paintings and I love to inspire others to do the same.
Are you ready?
Just for fun 🙂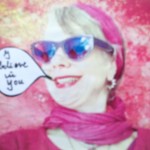 Visit my Pinterest Boards