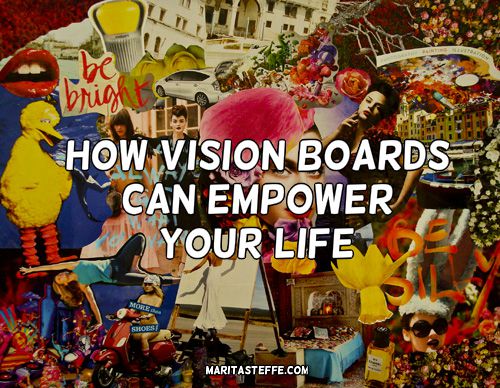 How Vision Boards Can Empower Your Life
Most of us want change at some point in our life, but on the other hand we don't. Change can be scary and it's definitely kind of uncomfortable, but also essential in order to grow.
A few years ago, I started to Feng Shui my home and all of a sudden my life was upside down. It wasn't really what I wanted right at that moment, but now I know it was all good and in my best interest.
A vision board is a great tool to empower your life and if you create it, your life will change. How it will change is up to you, the more intentions you set, the more you visualize, the more you will attract those things to you.
You have to define what you want to do, who you want to become and what's important in life. It will help you to achieve your life dreams. Life is change and we cannot hold on to things, we got to keep moving with the flow of life.
If you resist change, you either feel stuck and don't know what to do next or you get depressed. To make a vision board is a fun, creative, non threatening way to get out of the stuckness into some kind of action and have fun. Creative fun and playtime is something that needs to be incorporated into our lives and unfortunately it's the last thing we allow ourselves. We must make it a priority!
Our spirit is playful and needs time to play, otherwise it will rebel and sabotage us. So do yourself a favor and bring more playtime into your life. Yes I know it's hard to do, but it's something that should be part of the daily routine.
You can start with simple things like:
Step 1: How to empower your life with vision boards: Keep a daily journal and write down:
◾ Things that interest you
◾ Goals you would like to achieve
◾ Places you want to go to
◾ Work you want to do
◾ People you want to be with
◾ Material things you would like to have
Journaling will help you to contemplate and define your dreams.
Step 2: Empower your life with vision boards: Get a bunch of good magazines and rip out all the pages that make you feel good,
This is a right brain activity, so don't make it intellectual, just go through and stash all the pages in a box. When you have a good selection of pages go through all of them and pick out the ones that fit your theme. you can sort them by color and categories.
You can make a theme vision board, like career, health and fitness, relation ship, or you can do for several themes, which is a life vision board. One other way to do it, is to divide it into 4 areas, based on feng shui.
◾Love and relationship on the top right,
◾Mentors and helpful people bottom right
◾Lifestyle, knowledge, wisdom bottom left
◾Money, abundance
I normally glue a happy, healthy, confident picture of myself smack in the center. If you choose to do it this way, arrange the images area by area. You can also create a layered vision board, it's a bit more complicated but it's worth it because it's like a piece of art. So try and don't forget to have fun with it.
What do you like about vision boards?