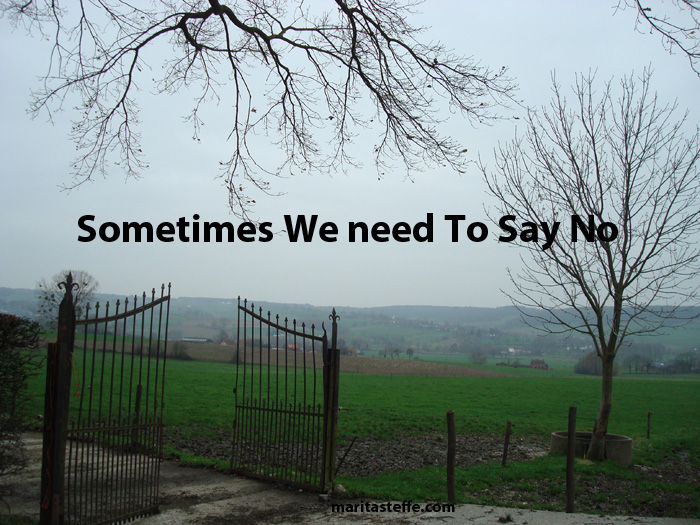 Sometimes We need To Say No
Women have a hard time to say no, mothers have a very hard time to say no.
Why is it so difficult?
We want to avoid conflict
We want to be nice
We have a good heart
We want to fit in
For me "no" is one of the hardest words, but the good news is: it can be learned, like anything else that's new. First it feels uncomfortable, but it gets easier the more we practice it.
How to do it!
Have you heard that it takes 21 days to learn a new habit?
For 21 days say "no" whenever you know that you do not want to do something. Make it a practice just for the heck of it! Empower your life by saying no. You have to be ok with the feeling of unease in your body until you get used to it. This is tip #1 when trying to learn new behavior, do not let it scare you away, it's a normal reaction of the body.
Be with the feeling of discomfort
Be aware and take the time to pause every time someone asks you for something. No exeption, you just say: Let me think about it or: I will let you know tomorrow, giving you enough time to sit with it. You can feel it in your body, if you do not want to do it, it might be a heavy feeling of unease in your abdomen.
Pay attention to your body, it's empowering to know how your body reacts.
I always admire people who are determined and tough, who know what they want and do what they say, but that's not me. I am so compassionate that I always want to help everybody, even if I do not have the time or energy to do so. One would say that there is nothing wrong with this, but if you do too much of it, especiallly for people who take advatage of you, you get resentful and that is not a very empowered place to be.
We are in integrity when we feel good about our actions.
Below some quotes about saying "no"
"…there are often many things we feel we should do that, in fact, we don't really have to do. Getting to the point where we can tell the difference is a major milestone in the simplification process." Elaine St.James
————————————————————————————————————————————————————————————————————————————————————————————————————————————————————–
"No is a complete sentence and so often we forget that.
When we don't want to do something we can simply smile and say no.
We don't have to explain ourselves, we can just say "No".
Early on my journey I found developing the ability to say no expanded my ability to say yes and really mean it.
My early attempts at saying no were often far from graceful but with practice even my no came from a place of love.
Love yourself enough to be able to say yes or no." Susan Gregg
————————————————————————————————————————————————————————————————————————————————————————————————————————————————————–
"Buy yourself some time. Interrupt the 'yes' cycle, using phrases like "I'll get back to you," then consider your options." Auliq Ice
—————————————————————————————————————————————————————————————————————————————————————————————————————————————————————-
"Being unable to say no can make you exhausted, stressed and irritable." Auliq Ice
So just for this week practice to say no and let me know how it worked, leave a comment below 🙂